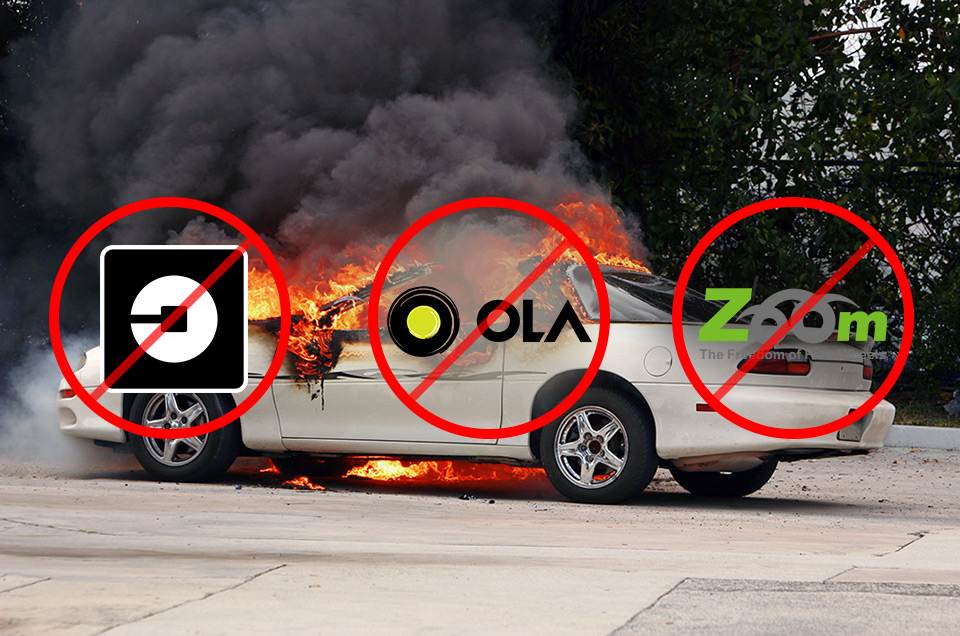 Short Answer – No
Why Zoomcar, Uber & Ola stopped it's services in Goa?
Taxis in Goa have been run by a trade unions "taxi mafia" for a long time. They charge very exorbitant prices and decide where a driver can and cannot drive. In 2014, people tried to bring Ola and Uber in gradually, but there was a lot of protesting and burning of Uber cars, so Ola and Uber decided to back out.
Visitors and people who live in the state know that taxi rates in Goa are all over the place. Even if a customer only wants to go one way, they have to pay for both ways.
At the moment, there are about 14,300 tourist taxis. They are all privately owned and run by one or another politically motivated thugs.
Every year, too many permits are given out, so there are too many drivers chasing too few tourists. In the past few years, the types of tourists who visit Goa have changed. The number of wealthy West European tourists has gone down, while the number of East European and domestic tourists has gone up.
In 2014, the state's transport department set taxi rates at Rs 14–Rs 22 per km for small cars and ₹72 – ₹146 per km for luxury cars. But these rates don't take into account the fact that taxis charge round-trip prices even for one-way trips. So, for example, a 26-km ride from Dabolim airport to Panaji, the capital, costs Rs 850 instead of Rs 400–Rs 550. In the same way, it costs Rs 1,100 to get from the tourist hub of Calangute to Dabolim airport, which is 38 km away.
Bringing in Zoomcar, Ola, or Uber will stop these people from hiking prices and charging too much, so these taxis have united to completely shut them off. If you are coming to goa for official work or with your family or a group of friends, the best option is to rent a car in Goa. You can rent a self drive cars in goa at very affordable prices with ease. In Goa, it is fairly simple to car rental in goa and make your trip memorable as your own car gives you the freedom to roam anywhere.
Sources:
News 18: Thousands of Goa Taxis Go on Strike, Demand Shutdown of App-based Service
Business Standard: Dabolim airport to shut if app-based transport not supported: Goa Minister
Herald TV: Goa Taxi operators threaten app based taxis from coming into their areas; demand dialogue