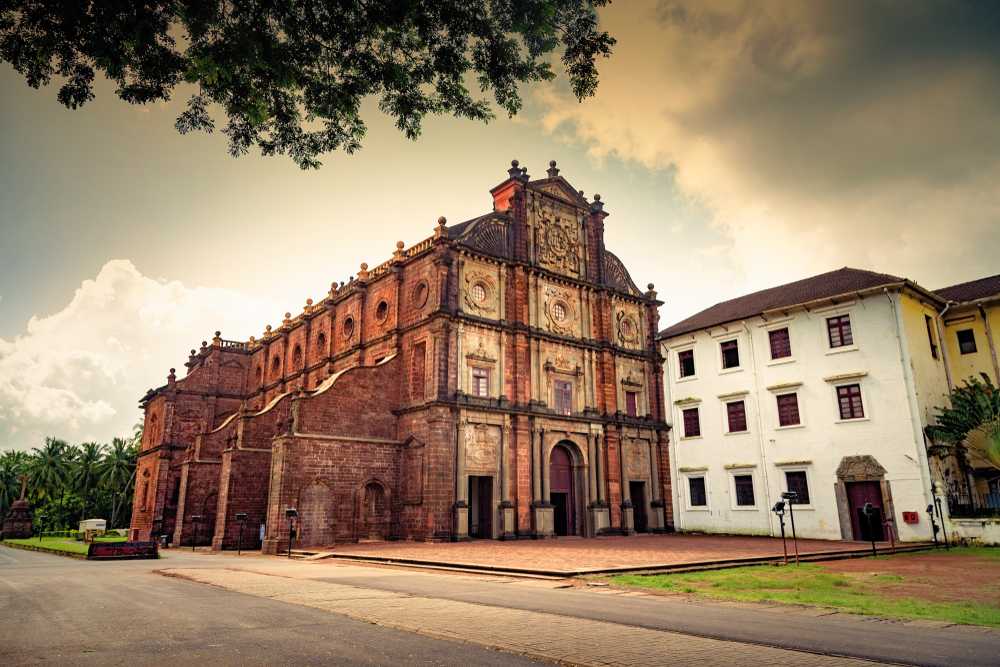 Goa, a party land located on the western coast of our country, is popular for its incredible beaches, lively nightlife, and delightful seafood. However, what many people don't know is that Goa is also home to some of the most stunning churches in the country. From magnificent baroque architecture to intricate carvings, these churches are a testament to Goa's rich cultural heritage and religious traditions.
In this blog post, we will take a closer look at the top 5 churches in the party land named GOA:
1. Basilica of Bom Jesus
The Basilica of Bom Jesus is perhaps the most famous church in Goa, and for good reason. This UNESCO World Heritage Site is over 400 years old and is home to the mortal remains of St. Francis Xavier, a revered Jesuit missionary who was instrumental in spreading Christianity in India. The church's baroque architecture is stunning, with intricate carvings and frescoes adorning its walls and ceilings. The high altar is particularly impressive, with its gold-plated altarpiece and a silver statue of St. Ignatius of Loyola, the forefather of the Jesuit order.
2. Se Cathedral
The Se Cathedral is another impressive church in Goa, located in the historic city of Old Goa. This cathedral is one of the largest churches in Asia and took nearly 80 years to complete. The cathedral's architecture is a mix of Renaissance and Baroque styles, with impressive vaulted ceilings, intricate carvings, and an ornate altarpiece. The cathedral is also home to the famous Golden Bell, which is one of the largest bells in Asia and weighs over 2,500 kg.
3. Church of St. Cajetan
The Church of St. Cajetan is a beautiful church located in the city of Old Goa. Built in the 17th century, the church's architecture is reminiscent of St. Peter's Basilica in Rome. The church's exterior is relatively plain, but the interior is adorned with intricate carvings and frescoes, which are particularly impressive in the main altar area. The church is also known for its impressive acoustics, which make it a popular venue for music concerts and performances.
4. Church of Our Lady of Immaculate Conception
The Church of Our Lady of Immaculate Conception is located in the heart of Panaji, the capital city of Goa. The church is over 450 years old and is one of the oldest churches in Goa. Its striking white façade and bell tower are a familiar sight to anyone who has visited Panaji. The church's interior is relatively simple, but its altars are beautifully decorated with gold and silver. If you are staying in north goa or south goa and want to cover this magnificent architecture than you look for car rental in goa and reach to these churches without any hassle. The church is particularly famous for its annual Feast of the Immaculate Conception, which is celebrated with great pomp and splendour.
5. St. Augustine Tower
The St. Augustine Tower is the remains of a once-grand church that was built by Augustinian friars in the 16th century. The church was abandoned in the 19th century, and only the bell tower and a few sections of the church's façade remain standing today. Despite its ruined state, the St. Augustine Tower is still a popular tourist attraction, and visitors can climb to the top of the tower to enjoy stunning views of Old Goa.
In conclusion, Goa's churches are not only architectural marvels but also offer a glimpse into the state's rich religious and cultural heritage. From the impressive baroque architecture of the Basilica of Bom Jesus to the ornate altarpiece of the Se Cathedral, each church has its unique story to tell. Whether you are a history buff or a lover of art and architecture, a visit to these churches is a must when in Goa.
Useful Tip for transportation to visit these churches or to explore goa
Taxis with driver in Goa have long been controlled by a "taxi cartel" comprised of labor unions. They charge extremely exorbitant rates and determine where a driver may and may not travel. In 2014, attempts were made to progressively introduce Ola and Uber, but protests and the destruction of Uber vehicles prompted Ola and Uber to withdraw.
Car on rent in goa is the best solution to travel within Goa. It is a convenient and inexpensive method to explore a new location and enjoy your vacation with ease and safety. You can easily hire a hatchback car like Maruti Swift, Hyundai i10 or Santro in a very nominal price of INR 1000 per day or also go for Sedan or Suv car in a price of INR 1500-3000 per day.