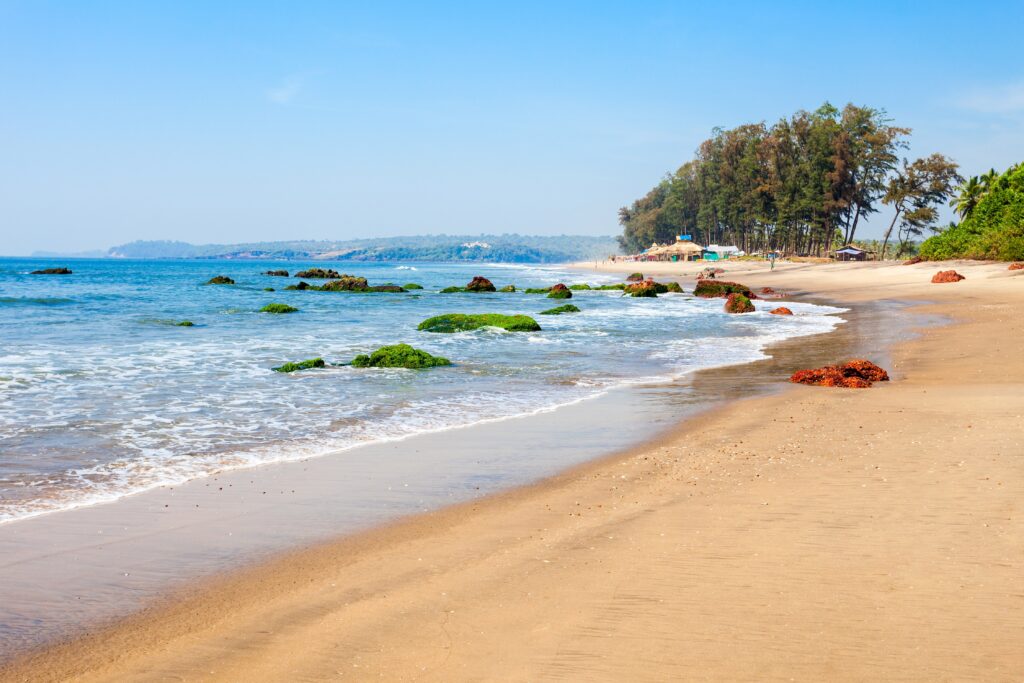 Hey there beach bums and sun worshippers! Are you planning a trip to the beautiful North Goa and wondering where to soak up some sun and sand? Welcome to the land of sun, sand and sea – North Goa! With its stunning beaches, vibrant culture and delectable cuisine, North Goa is a heaven for travellers seeking adventure, relaxation or a little bit of both. From water sports activities to scenic views and mouth-watering seafood, this destination has something for everyone. Whether you are a solo traveller, a couple or a family with kids, North Goa promises to offer an unforgettable experience. So sit back, book a car on rent in Goa, relax and get ready to explore the top 5 POPULAR beaches in this tropical paradise!
1. Baga Beach:
If you are looking for a fun-filled day with your friends, Baga Beach is the place to be! This beach is always buzzing with energy and is popular for its water sports activities. Take a dip in the sea, ride the waves on a jet ski or simply relax on a beach chair with a chilled beer in hand. Baga beach is also known for its lively nightlife with a plethora of bars, clubs and restaurants.
Pro tip: Watch out for the beach vendors trying to sell you souvenirs or massages. They can be pretty persistent, so be prepared to say a firm "no thank you" or risk ending up with a dozen bracelets and a sore back.
2. Anjuna Beach:
Anjuna Beach is perfect for the laid-back traveller who wants to enjoy some peace and quiet. It's a beautiful and serene beach surrounded by palm trees and picturesque hills. The rocky terrain and cliffs make it ideal for those who enjoy cliff jumping. The flea market on Wednesdays is also a must-visit, with plenty of souvenirs, clothes and accessories to choose from.
Pro tip: Don't forget to try the famous seafood at Curlies, one of the oldest beach shacks on Anjuna Beach. Also, the best way to explore this vibrant destination is by booking a car rental in Goa.
3. Calangute Beach:
Calangute Beach is one of the most popular beaches in North Goa and for good reason. With its pristine white sand and crystal-clear waters, it is the perfect spot for swimming, sunbathing or taking a leisurely stroll. The beach is lined with numerous shacks, bars and restaurants serving everything from fresh seafood to cocktails.
Pro tip: Avoid visiting Calangute Beach during peak season (December to January) as it can get extremely crowded and noisy.
4. MorjimBeach:
Morjim Beach is a must-visit for those who love nature and wildlife. It is known for its beautiful and serene surroundings, as well as the Olive Ridley Turtles that nest on the beach. If you are lucky, you may even get to witness the hatching of baby turtles and watch them make their way into the sea. The beach is also popular for water sports activities like jet skiing, kayaking and parasailing.
Pro tip: Keep your distance from the turtles and their nests to avoid disturbing them.
5. VagatorBeach:
Vagator Beach is perfect for those looking for a laid-back and bohemian vibe. The beach is known for its red cliffs, lush greenery and clear blue waters. It is a great spot for swimming, sunbathing or simply relaxing with a good book. The famous Chapora Fort is also located nearby, which offers a panoramic view of the Arabian Sea.
Pro tip: Visit during sunset for some stunning views and great photo opportunities.
So there you have it, folks! The top 5 POPULAR beaches in North Goa that you simply can't miss. Whether you are looking for adventure, relaxation or simply some good ol' fun in the sun, these beaches have got you covered. So don't forget to book a car rental in Goa. Get excited to head to North Goa for the ultimate beach vacation!